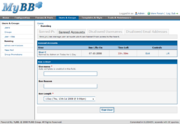 The banning section under the Users & Groups tab allows you to ban registered users. See Configuration: Banning for documentation of the banning page for IP addresses, disallowed usernames, and disallowed email addresses.
You can ban users by completing the form at the bottom of the Banned Accounts page. You can edit bans by selecting "Edit" under controls for the ban you wish to edit.
Username 

The username of the account you wish to ban. Auto-complete is enabled on this field.

Ban reason 

The reason to show the user explaining why they were banned.

Ban Group 

If more than the default Banned group exists, you can specify the ban group you wish the user to be banned to.

Ban Length 

The length of the ban (and when it will be lifted).