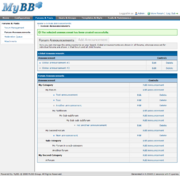 This section allows you to add forum announcements to a specific forum (and any children) or to all forums.
From the announcement listing page, you see a listing of all forums on your board. For each forum, you can choose to add a new announcement ("Add Announcement"). Beneath each forum is a listing of its forum announcements, with an indicator showing if it is within its date limits. If it is not within its date limits, it will not be shown. You can edit or delete each announcement.
If you have any global announcements, you will see another table listing your global announcements, and will be able to edit or delete these as well.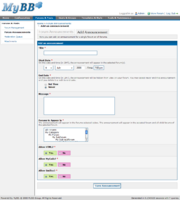 You can add or edit an announcement by selecting "Add Announcement" at the top of the listing page, or selecting "Add Announcement" for a specific forum.
Title 

Name for the announcement.

Start Date 

On what date and at what time should the announcement begin being shown?

End Date 

Should the announcement have an end date, or should it never end? If it will have an end date, on what day and at what time should it be hidden?

Message 

What should the announcement be?

Forum to Appear in 

Which forum should this announcement be shown in? If it should be a global announcement and be shown in all forums, select "All Forums." Selecting a forum that has child forums will show the announcement in all child forums.

Allow HTML 

Should HTML be parsed in the announcement? (Javascript is removed)

Allow MyCode 

Should MyCode be parsed in the announcement?

Allow Smilies 

Should smilies be parsed in the announcement?