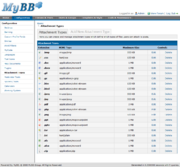 The Attachment Types section in the Admin CP allows you to manage the types of attachments that can be uploaded to your forum, as well as size limits for these types of attachments.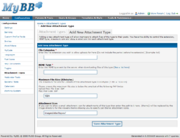 File Extension 

The extension that this file type uses. For instance, txt for text files. You do not need to include the dot (.)

MIME Type 

The MIME type sent by the server when downloading this file. (of MIME types)

Maximum File Size (Kilobytes) 

The maximum size of files that can be uploaded of this type. Must be in kilobytes; there are 1024 megabytes in a kilobyte. Be sure the size limit is not larger than the server limit, which is shown on the Add/Edit page in this setting's description.

Attachment Icon 

URL to the attachment icon to be used for this file.