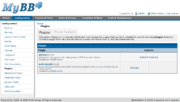 Plugins extend the code your forum runs on through the use of hooks. For more information on plugins, see Plugins. The Plugins page in the Admin CP allow you to manage your installed and activated plugins. From this page, you can view the title, version number, description, and creator for the plugin. You can also Activate, Install, Deactivate, or Uninstall the plugin (whichever applies at the time).
If the plugin complies, the installation/uninstallation function will install/uninstall the plugin completely, whereas the activate/deactivate function will simply disable the plugin from use, keeping all settings. If the plugin supports it, you must first Install the plugin. If it is an older plugin that does not comply with the newer Installation feature, you will only be shown an Activate link, and no Install link.
Once installed, the plugin will be able to be deactivated and uninstalled. If deactivated, the plugin should only hide from view, saving all settings. If it is uninstalled, it will be removed completely from your board.
You can also check for updates if the plugin support version checking. Each plugin that is uploaded to the MyBB Extend site is assigned a GUID (Global Unique Identifier), which, if the plugin supports it, will be checked against the version number stored for that plugin on the MyBB Extend site. If your plugin is out of date, you will be told so. To access the Version Checking feature, click on "Plugin Updates" at the top of the Plugins page.