RSS Syndication allows you to receive notifications about new threads in your RSS reader (such as SharpReader). More about RSS.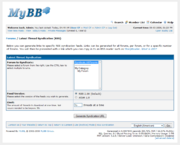 You will first need to set up your feed.
Forum To Syndicate

Select the forum(s) you would like to syndicate. You can select more than one by using Ctrl+click or Shift+click to select more than one in a row.

Feed Version

Select the RSS version you would like to generate. This often depends on your preference, and your RSS reader. See XML.com for a listing of RSS versions and recommendations. MyBB supports RSS 2.00 and Atom 1.0

Limit

This is the number of threads to download at one time. It is not recommended that you place this above 50.
Once you click on "Generate Syndicate URL," you will be shown a URL which you can use in your RSS reader.
This is obviously not the complete feature list. See Features.