Polls allow users to pose questions to the other users of the board and have an easy way to track results.
Polls are created when creating a thread. At the bottom of the New Thread screen, there is a section for Poll creation. Select the checkbox "I want to post a poll" and enter in the number of options you want the poll to have (this can be changed later, so just enter an estimate if you have not decided the options yet). Post the thread, and you will be redirected to a second page to setup your poll.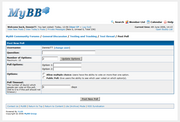 Question

First, enter your poll's topic or question in this box.

Number of Options

If you run out of Poll Options (box below), you can use this box to change the number of options.

Poll Options

Enter in the possible responses in the boxes here.

Allow Multiple Choice

If this checkbox is selected, voters will be able to choose more than one option when they vote.

Public Poll

If this checkbox is selected, voters' names will be displayed in the poll results.

Poll Timeout

This is the number of days from the poll creation date until the poll is automatically closed and users will not be able to vote any more.
The "Edit Poll" link is shown to moderators on the Thread Display page under the poll.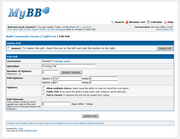 The majority of the form is similar to the above (Posting Polls), except for the following:
Delete Poll

You can delete the poll by selecting the checkbox and clicking on Delete Poll to the right.

Poll Options

You can additionally change the number of votes that have accumulated for each option.

Option - Poll is closed

You can toggle to poll open/closed status. If you select this checkbox, no one will be able to vote on the poll any longer.
This is obviously not the complete feature list. See Features.