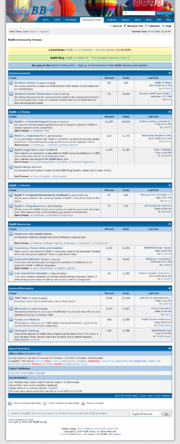 The Index Page is the first page that most users see when they enter your forum. This is a list of all the first, second, (and third level) forums that they have permission to access.
To the left of every second-level forum is a large icon, which, by default, is blue when there are new posts, gray when there are no new posts, and gray with a red "X" when the forum is locked. In the forum list, there are also small icons next to each of the subforums in the list of subforums for each forum (if the status icons are enabled). These icons show whether there are new posts in the subforums. By default, if the icon is blue, there are new posts; if it is gray, there are no new posts.
By single clicking on any status icon where the current status is "New Posts" (blue, by default), it marks that forum as read instantly using AJAX, changing the icon to match. This performs the action as selecting "Mark Forum As Read" at the top of the thread list when within the forum.
Below the forum list, there is a small information box containing a Who Is Online list, Board Statistics, and User's Birthdays (if the board administrator has enabled them and there are birthdays).
In addition, there will be miscellaneous links:
Logout 

This will allow you to logout of your account if logged in.

Mark All Forums Read 

This will mark all new threads and forums with the status of 'read' as opposed to 'unread.'
This will link you to a list of the forum staff.
This will link you to a detailed statistics page.
Below this, there is a legend for the forum status icons.