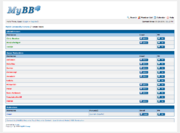 The Forum Team page by default shows a list of all the users in the Administrator and Super Moderators usergroup. In addition, a special list of all moderators and the forums they moderate is shown.
The display group of the user is the group that will be used when displaying the Forum Team page.
Administrators can add/remove groups that are listed on this page in Usergroup Settings and choose the order in which the groups are shown on the forum team page.